Continuous feedback makes the work more rewarding – the results reflect the quality of service immediately • Shared success boosts team spirit in the unit • Quick feedback enables an efficient response on a regional and unit level
An easy-to-use, quick, and safe feedback channel is a sign that the company cares about its customers, and thus it increases trust and commitment • The customer will be happier after having had a chance to express his or her opinion, even after an unsuccessful service event • The presence of the system shows customers that the company leads the way in ensuring continuous customer satisfaction
A tool to facilitate the implementation of measures related to customer-satisfaction in the field and to ensure their success • A way to ensure that the service promise is fulfilled in the unit network every day • A way to increase local responsibility, functioning as a tool for regional and unit management in their daily work
Continual Feedback

Comprehensive* non-stop customer satisfaction information, simultaneously delivered from each business unit. *Daily sampling rate up to 80% of all customers! Depending on the question and type of service unit/store unit and industry.
Point-of-Experience

Service includes totally wireless self-standing HappyOrNot® devices and an intelligent reporting service The first quick and approachable daily feedback channel for customers (takes only 2-3 seconds to answer!)
100% Wireless

The device is totally wireless and easy to move to another point of experience within the business unit.
Online Reporting

Reports are delivered automatically to management, territory managers and branch managers – the reports will be delivered whenever you want.
Customer feedback has always been a science that is yet to yield the results we want. Often times customers are asked to fill out surveys online, call in within 72 hours of their experience, or figure out a complicated kiosk. Businesses are forced to offer costly incentives to get valued feedback and results that are often 1-2% response rate – at best.
"You can't manage what you do not measure." – anonymous
Enter HappyOrNot®. This revolutionary device provides instant feedback at the point of experience. Reports generated by HappyOrNot® results can be received automatically or accessed online. This system is changing the way businesses are run. With HappyOrNot®, response rates range between 15% and 85%, so a huge segment of your customer base will be actively providing feedback directly to your organization. This valuable knowledge is needed to better serve your customers!
The device is famously recognized with 2  faces and 2  faces. It is completely wireless and easy to set up, more importantly, easy to use. Customers respond to questions at the point of experience. Results are tracked by device location allowing your company to compare between each location separately and collectively.
HappyOrNot® service has received multiple awards for enterprise-wide, continuous customer satisfaction monitoring and measurement.  Your company benefits from the service every day, every opening hour!
– Improves service levels, customer satisfaction and customer loyalty
– Encourages and motivates personnel to achieve their objectives and improve performance
– Provides enterprise-wide data fast to support and enhance customer-focused decision-making
– Helps your company improve its competitive position Totally risk-free, extremely easy "all-inclusive" service model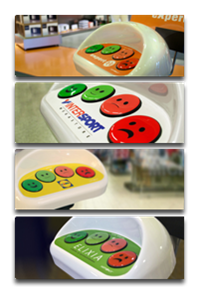 HappyOrNot® gives you a snapshot of how your business is performing every hour of every day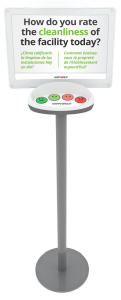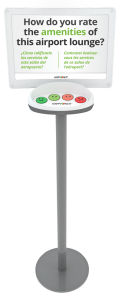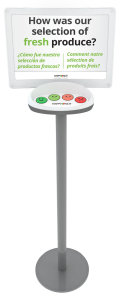 Return On Investment
HappyOrNot® helps your organization to improve customer satisfaction by allowing you first to   quantify the current satisfaction index with a larger representative sample size. Typical   surveys and other means of gathering customer feedback result in a very small sample size   of less than 1%. Unfortunately, that 1% is not always made up of "typical customers" and so   it skews the data even more.

With HappyOrNot® you will receive feedback from a much larger percentage of customers, 15-20%   on average. This allows the organization to truly understand what the average customer   experiences in each branch of the chain with reporting showing an hourly, daily, weekly and   monthly overview. This empowers store managers, and employees, to better understand   their level of performance and to better understand how their behavior impacts their   customers. This in turn leads employees to improve their customer service skills and the   Happy Or Not device itself serves as a very visible constant reminder to offer good service.